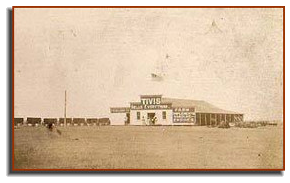 What would become today's Meade County began as the eastern portion of Lawrence County during the gold rush years of 1876. Almost from the start, the residents fought to separate themselves from Lawrence County and establish their own government. However, it wasn't until 1887 that voters were allowed the chance to do so. At that time the voters in eastern Lawrence County voted 690 to 29 in favor of segregating from Lawrence County to become Meade County.  The vote in Sturgis was 359 to 3.
The division occurred in 1889, at the same time Dakota Territory was splitting into North and South Dakota.  The County was named after Fort Meade, which was itself named for Gen. George G. Meade, a union commander of the Army of the Potomac during the battle of Gettysburg.
Today, Meade County covers more than two million acres, but when it was created in 1889 it included only the southern half of the county.  Ten years later, two counties on the north, Scobey and Delano, were incorporated to create the Meade County of today.
Your support is essential in our efforts and is highly appreciated.